Jessica Metcalf-Burton
Jesse started swing dancing in the fall of 1998, and never looked back. She has attended workshops and exchanges all over the country, and danced in several others. In January 2006 Jesse taught her first official lindy hop class, following which she became a regular teacher at several weekly events in Ann Arbor, MI. She moved to Columbia, MD in 2012, and is now trying to find all the places in Columbia where she can teach.
In addition to her swing dance experience, Jesse has dipped her toes into the waters of Iyengar yoga, ballroom dance, Argentine tango, Middle Eastern dance (bellydance), contact improvisation, modern dance, Congolese dance, Tai Chi, and Feldenkrais. Jesse enjoys bringing her experiences from other forms of dance and music into the world of swing dancing.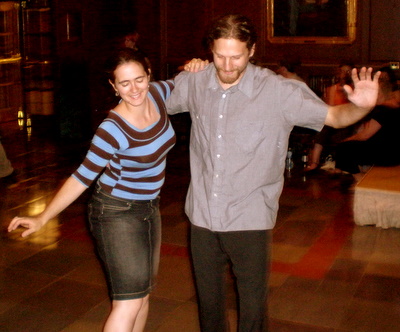 Zachary Williams
Zach has studied music for most of his life, and in recent years, martial arts. He has a strong background in music and movement.
Zach began dancing as a lead and started following only a month later. While his leading has overtaken his following, he continues to explore following as a way to improve his general skills as a dancer. He has been helping to teach fellow dancers since 2007. Zach regularly attends workshops and other dance events. He has also taken private lessons and seminars on teacher training from a number of nationally known swing dance instructors.